What You Should Know About Door Buzzer Entry Systems
It's simple! you determine who gains access to your facility by a push of a button.
like when you go to the bank to take some cash from your bank account. But when you were at the door, you needed to press the buzzer for the employees to let you in the facility. This bank, as well as many other companies and corporate institutions, is using a door buzzer entry system.
It is a simple but convenient and secure way of unlocking the door remotely. Are you thinking about getting a buzzer entry system for your business? In that case, here is what you should know about these products!
.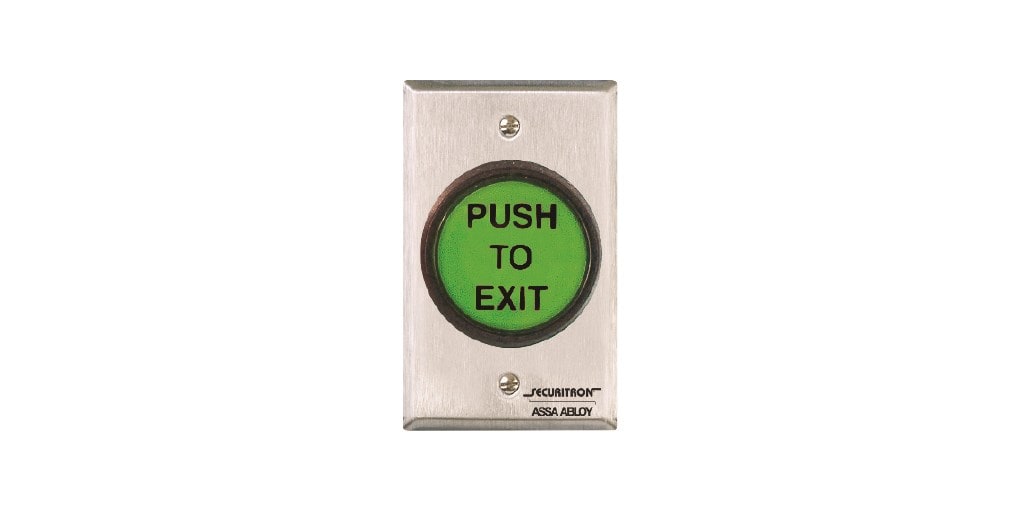 What Is a Door Buzzer Entry System?
A door buzzer entry system is nothing else than a remote access control setup for domestic and commercial facilities. It aims to promote security and prevent unwanted access while providing the convenience of opening the door remotely.
These are the places where you can see buzzer entry systems:
Financial institutions dealing with cash
Any other company that wants to improve security on its premises
Buildings equipped with intercom access systems
Houses and private properties
A door buzzer entry system is suitable for any residential or commercial facility. If you want or need to install a remote access system, this can be the perfect choice for you.
How Does a Door Buzzer Entry System Work?
These systems use high-quality electric locks to control access to a property, area, or room. Outside the property, you will find a small unit equipped with a keypad and a microphone. That device is connected to a receiver situated inside the property. Some companies choose to mount it on the wall, and others prefer to keep it on the table.
If a person wants to access the property, it encounters a device equipped with a button they press to signal the people on the inside. The system emits a buzzer sound to let you know someone is at the door.
You can use the intercom system to communicate with the person outdoors. You could ask them who they are and why they are visiting. After confirming their identity and intentions, you press the button and let them in. You do not have to get near the door because everything is done remotely. Pressing the button activates electric current, which opens the lock so that the person can enter.
Depending on the buzzer entry system, you can also use cameras to see who is at the door. Not all systems have cameras, but they are a great way to take security to the next level.
Can I use a remote to unlock the door remotely?
More Info
Yes most definitely we do have options for wireless remote for your convenient.
More Info
Yes it is secure, we utilize only commercial grade electric strike in our installations
How long installation takes?
More Info
Our one door installation kit typically completed within the same day.
What Are the Benefits of a Door Buzzer Entry System?
Door buzzer entry systems are extremely popular and for good reasons. Here are the benefits to expect with this reliable setup!
Security
The primary reason why business owners decide to install door buzzer systems is the security of their staff and premises. You might be working with cash, which puts you at risk of a robbery. Perhaps you are dealing with sensitive information, and want to keep files the archive protected. Or you are a responsible business owner that cares about the employees and wants them to feel safe.
A door buzzer entry system is a simple but very useful and secure system for a property or a sensitive room on the premises. The electricity holds the door locked by default, which means it only takes pushing the door to lock them. And even in the case of a power outage, the doors remain locked until you unlock them.
Access to the property can only be granted from the inside by using the receiver connected with the unit. If you have CCTV cameras installed, you can get a visual of the visitor before even talking to them. You can also talk to the visitor via intercom, which allows verifying their identity. It is a great way of learning who they are and why they are visiting your company.
If the visitor has malicious intent, the electricity will keep the door locked. That means they will be denied entry to the premises to prevent any problems.
Convenience
Another advantage of using remote access systems is convenience. How many times did you have to get up to unlock the door and let someone inside? That disrupts the overall productivity of the company, especially if you have a big number of visitors every day.
A door buzzer entry system allows unlocking the door without getting near them. Depending on the system, the range can be up to a mile or more. That means you can be at the other part of the facility and still be able to unlock the door at the press of a button.
Durable, Long-Lasting, and Money-Saving
Remote access systems are durable and resistant to damage. That includes excellent resistance to severe weather conditions, such as rain, snow, or wind. Additionally, top-quality door buzzer systems are also resistant to vandalism. The device on the outdoors is extremely difficult to be destroyed. And even that won't give the intruder access into the premises. The electricity keeps the door locked so that the facilities remain safe.
That makes door buzzer entry systems a smart long-term investment. You can save a lot of money you might spend on security staff. Not to mention potential repairs and damage that could be made if an intruder comes in and commits illegal activities. Physical damage might require a costly investment, but sensitive information or cash theft could destroy the reputation of your company.
That is why buzzer systems aren't only about saving money, but also ensuring that your business reputation remains at a high level. These setups are durable and long-lasting, and they can serve you for years with proper maintenance.
Do I Need a Door Buzzer Entry System?
What if you leave open access into your office, and an unwelcome visitor comes? Perhaps they plan on stealing something or damaging your property. Maybe they are there to harm an employee or do any other illegal activity.
A door buzzer entry system is there to control access to the premises and prevent unwanted scenarios. It allows you to screen all visitors and keep intruders away from your facilities.
If you want to install a door buzzer entry system, we are your best bet!
And here is why:
Helping you to choose a suitable door buzzer entry system for your premises
Making sure the components and installation fit your budget
Years of experience guarantee that everything will be installed smoothly
Whether you want a single-unit door buzzer entry system or a complicated setup with CCTV cameras, we are at your service.
Call us today to discuss your requirements and schedule an appointment with our experts!