DL2700 Cylindrical Pin Lock
DL2700 Cylindrical Pin Lock
DL2700 Cylindrical Pin Lock – What Makes It So Popular?
Are you looking for a cylindrical pin lock you can rely on at all times? These locks can be an essential piece of your corporate security, which is why you need to choose carefully. In this article, we are focusing on DL2700 line of Trilogy T2 locks manufactured by Alarm Lock Systems. Here is everything you need to know about the product!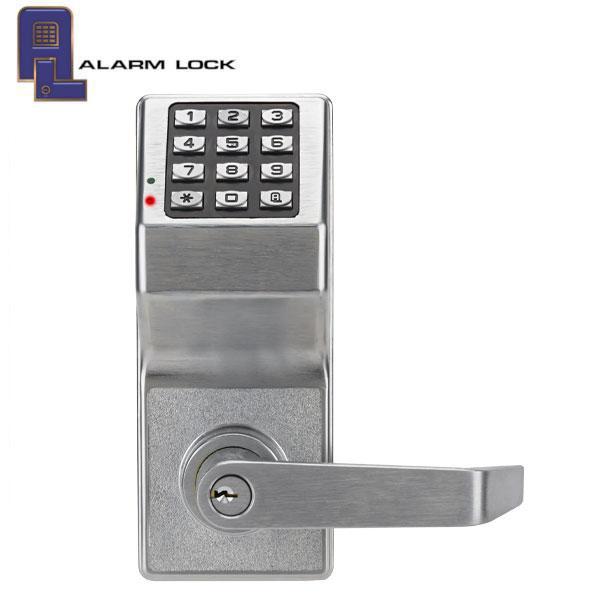 What is DL2700 Access lock?
DL2000 is a cylindrical pin lock designed primarily for commercial purposes. It is one of the most popular solutions made by Alarm Lock Systems. Corporate clients throughout the world use this lock to protect their facility, and they seem to be extremely happy with its performance.
It is an electronic keyless access lock, which means that you do not use classic keys to enter. Instead, it works electronically to grant or prevent access to a facility/room/area.
The lock utilizes a clutch mechanism, which allows users to turn the level without retracting the latch. Thanks to that, you will avoid putting stress on lock bodies and spindle. DL2700 allows free turning of the outside lever in the locked position. If you enter access code or utilize key or remote bypass, the lever will retract the latch. As for the inside lever, it always offers instant egress.
Who Is Alarm Lock?
Alarm Lock Systems, the manufacturer of DL2700, is a part of Napco Security Technologies. The company headquarters is in Amityville, New York, but it is interesting to mention that the Caribbean is the location of a portion of its manufacturing process, too.
Napco always looks to design products that will be in line with the specifications and expectations of various industries. They comply with the ISO19002 standard and ensure to maintain quality across all their products.
Alarm Lock specializes in commercial access control systems, which aim to improve the security of virtually any facility. The company aims to offer affordable solutions that guarantee easy installation and use.
What Is Trilogy T2 Series?
It is a group of access control solution and the most famous brand of Alarm Lock Systems. DL2700 is the flagship product of the series, but you can also choose from other cylindrical, as well as a narrow stile, mortise, and other lock types. Trilogy T2 offers unmatchable versatility as it can protect any commercial facility out there.
The features of the series include exceptional durability, easy programming, multiple codes, and user levels, as well as extended battery lifespan.
Who Can Use DL2700 Access Lock ?
Who Can Use DL2700?
DL2700 cylindrical pin lock has been a favorite of security professionals across many industries. Commercial use is its primary purpose, and you can see the lock in these premises:
Retailers
Offices
Schools
Hospitals
Airports
Many other commercial facilities and institutions
More Info
Your content goes here. Edit or remove this text inline or in the module Content settings. You can also style every aspect of this content in the module Design settings and even apply custom CSS to this text in the module Advanced settings.
More Info
Your content goes here. Edit or remove this text inline or in the module Content settings. You can also style every aspect of this content in the module Design settings and even apply custom CSS to this text in the module Advanced settings.
More Info
Your content goes here. Edit or remove this text inline or in the module Content settings. You can also style every aspect of this content in the module Design settings and even apply custom CSS to this text in the module Advanced settings.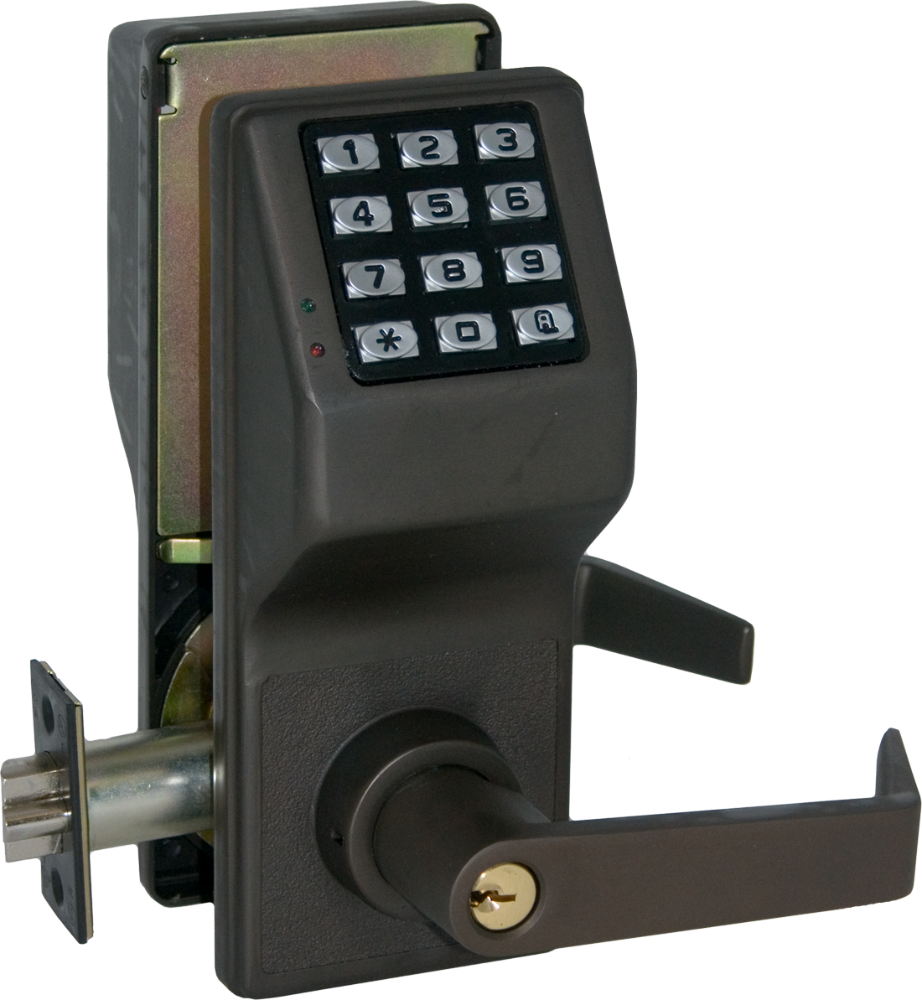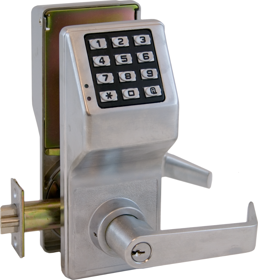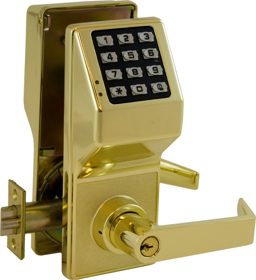 DL2700 – Main Features
Nobody can deny that DL2700 is the most popular solution of Alarm Lock Systems, but why is it so popular? Let's take a look at its most important features to see why you should try this electronic keyless access lock!
Impressive Durability and Weatherproof Performance
If you scratch around the surface, the first thing that you notice about DL2700 lock is that it is exceptionally durable. It is nice to see that the manufacturer has chosen all components carefully, and ensured Grade 1 professional durability.
For starters, the lockset is extremely dependable, and it features a strong clutch mechanism. If you are worried about vandals, you will appreciate the fact that the lock has a keypad completely made of metal. That will prevent any damage, which is particularly useful if you plan to place the lock outdoor where it is publicly accessible.
It is vital to note that the weatherproof feature is available upon requires. All models in the series can be completely water-sealed and capable of resisting extreme temperatures. That means your lock will work whether it is -31F (-35C) or +66C (+151F) outside. It is nice to know that severe weather condition can't affect your lock performance, and you don't have to worry whether anything will go wrong.
More Details About the Keypad
We already mentioned that the lock is all metal, which supports durability and longevity. You will notice a total of 12 programmable buttons, which secure a range of access functions. Users can choose the desired tone from the available four sound types. Alternatively, you can go with a silent mode, which can be useful if you do not want to disturb coworkers or other people nearby.
It will be easy to set multiple access levels, such as:
Individual or group access codes – an excellent choice for standard access (for example, office workers).
Master and management codes – special codes used by top-tier management. You can also set the same code for a group of locks in a facility.
Passage, emergency, and service codes
DL2700 accepts more than 100 different user codes, which will give you all the freedom you need in setting up the lock. You can set codes for 90 users, 10 managers, as well as add three service codes, and single master code.
The best part about the keypad is that you can use your fingertip to program it. You don't need anything else, which allows easy setup of different access levels.
The product also has lockout and remote override features. The company pinpoints that the allowable entry time shouldn't exceed 20 seconds.
Once the lock grants you access, you will notice both audible and visual indicators, which will be a confirmation that you entered the right code.
Other DL2700 Specifications
The great thing about the DL2700 cylindrical pin lock is that it is non-handed, which offers amazing versatility, and ensures easy installation. It shouldn't take more than 60 minutes for professionals to set up everything, and you can start enjoying top-level security on your premises. The lock utilizes adjusted ANSI 161 Series Prep to retrofit cylindrical knobsets and digital locks.
You can fit the DL2700 lock on all doors thick from 1 5/8 inches to 1 7/8 inches. That is the standard, but it may be possible to get a lock suitable for thinner or thicker doors, too. However, that will require contacting the company and coming up with a custom solution. The standard backset is 2 ¾ inches, although a backset of 2 3/8 inches is also available.
The core models are interchangeable, and the lock fits with six and seven-pin cylinders from KSP, Arrow, Best, Kaba Peaks and Medeco Keymark. The company ensured a UL-listed latch bolt which is resistant to fire. The latch bolt is reversible, and you can adjust its front depending on whether you plan to use it with beveled or flat doors.
You will receive a 1 ¼ x 4 7/8 ASA strike, and 1 1/8 x 2 ¾ T strike with the DL2700 lock. The manufacturer also included screws to fit metal and wood jambs. You can choose from stainless steel or wrought brass latch front.
Choose from Three Different Finishes
The company secured three different finished for this amazing cylindrical pin lock. That way, you can rest assured that your lock will fit the door and the overall décor of the area. You can choose between a polished brass finish that looks very classy, a satin chrome finish that delivers that modern look, or a Durodonic finish if you are looking for a touch of class and elegance.
What Is the Expected Battery Life of DL2700?
DL2700 is a standalone unit that operates on batteries. You will need 5AA batteries to run the keyless system, but they will be a long-term investment. The estimation is that they will last for 200,000 cycles. You will get durable alkaline batteries with the product, which means you won't have to worry about powering the unit for a while.
How Is DL2700LD Different from the Standard Model?
Alarm Lock recently designed another model in the series – DL2700LD. The unit was specifically designed to use on-campus/K12, and it is equipped with a lockdown feature.
As soon as they notice anything out of the ordinary, the staff has the option of remotely activating the keyfob button, which will immediately put an area or classroom in a lockdown mode. That way, you can lock out unwanted access by simply pressing a small button.
DL2700LD is suitable for multiple classrooms as you can use a single keyfob to control four locks. You have to be within 100 feet to activate the lockdown remotely. Once in lockdown mode, the lock will show a light bar that will confirm the occupants that it is activated. Additionally, the lock also has an audible and video indicator on the outside.
You can use the preset code to remove lockdown once first responders come to the scene, or when there is no need to use the lockdown feature anymore. This particular set doesn't have as impressive battery life as the standard model, but it will still last up to 100 cycles, which should be up to four years.
Pick Your Model and Upgrade Your Security Today!
Alarm Lock Systems knows what commercial users require when it comes to keyless access solutions. Their DL2700 cylindrical pin lock can take the security of any corporate premise or institution to the highest level. If one thing is certain, it is that this unit can exceed your expectations!